Canon Canon i-Sensys MF232w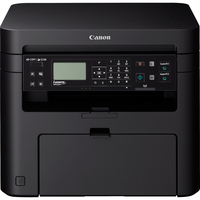 Canon i-SENSYS MF232W, Laser, Mono printing, Mono copying, Colour scanning, 15000 pagina's per maand, 500 - 2500 pagina's per maand
€ 217, –
Inclusief BTW en taksen.
Momenteel niet leverbaar
Fabrikant Code:
1418C043
EAN Code:
4549292065350
Canon i-SENSYS MF232w
A fast, wireless 3-in-1 laser printer built for home and small offices.

Small office document printing goes wireless
Print, copy, and scan from a PC, smartphone or tablet with this professional multifunction mono laser printer for home and small offices.

Print from your smartphone
Print and scan documents from mobile devices connected to the printer directly or via a local wireless network.

Monitor from a PC or mobile
Access printer information, change network settings, set up the address book and check toner levels – all from the Remote User Interface (RUI).

Supercharge productivity
Small businesses and home offices will appreciate the fast, reliable mono print quality, LCD display and print, copy and scan options of this Wi-Fi network printer.

Sustainability matters
The printer's ECO reports make it easy to monitor and track usage, while Auto Off and reduced power consumption modes help keep your carbon footprint to a minimum.

Canon All-In-One Cartridges
Canon's All-in-One Cartridges deliver superb mono text documents and images. Experience consistent reliability and quality with just a single cartridge change.
Beeldscherm
Beeldscherm
LCD
Tekstregels
5
Design
Kleur van het product
Zwart
Eisen aan de omgeving
Relatieve luchtvochtigheid, in bedrijf
20 - 80 procent
Temperatuur, in bedrijf
10 - 30 °C
Energie
AC invoer frequentie
50/60 Hz
AC invoer voltage
220-240 V
Energy Star Typical Electricity Consumption (TEC)
0.7
Slaapstand
1,2 W
Stroomverbruik (in standby)
4,2 W
Stroomverbruik (indien uit)
0,5 W
Vermogensverbruik (max)
1120 W
Geluidsproductie
Geluidsniveau tijdens afdrukken
66 dB
Gewicht en omvang
Breedte
390 mm
Diepte
371 mm
Gewicht
10,2 kg
Hoogte
312 mm
Invoercapaciteit
Multifunctionele ladecapaciteit
1 vel
Standaard invoercapaciteit
250 vel
Type invoer papier
Cassette
Kopiëren
Kopieën vergroten/verkleinen
25 - 400 procent
Kopieersnelheid (standaard, zwart, A4)
23 cpm
Maximale kopieerresolutie
600 x 600 DPI
Tijd voor eerste kopie (zwart, normaal)
9 s
Netwerk
Ethernet LAN
Ethernet LAN, data-overdrachtsnelheden
10,100 Mbit/s
Mobiele printing technologieën
Apple AirPrint,Canon PRINT Business,Google Cloud Print,Mopria Print Service
Ondersteunde beveiligingsalgoritmen
64-bit WEP,128-bit WEP,802.1x RADIUS,HTTPS,IPSEC,WEP,WPA2-AES,WPA2-PSK,WPA2-TKIP
Ondersteunde network protocollen (IPv4)
LPD, RAW, WSD-Print, Email, SMB, WSD-Scan, Bonjour(mDNS), HTTP, HTTPS, POP before SMTP, DHCP, ARP+PING, Auto IP, WINS, SNMPv1, SNMPv3
Ondersteunde network protocollen (IPv6)
LPD, RAW, WSD-Print, Email, SMB, WSD-Scan, Bonjour(mDNS), HTTP, HTTPS, POP before SMTP, DHCPv6, SNMPv1, SNMPv3
Wi-Fi
Wi-Fi-standaarden
IEEE 802.11b,IEEE 802.11g,IEEE 802.11n
Opslagmedia
Intern geheugen
256 MB
Overige specificaties
Cartridge(s) meegeleverd
Papier
Afmetingen enveloppen
10, C5, DL
ISO A-series afmetingen (A0...A9)
A4,A5
ISO B-series afmetingen (B0...B9)
B5
Maximale ISO A-series papierformaat
A4
Mediagewicht, automatische doorvoer
50 - 105 g/m²
Multifunctionele lade papiergewicht
60 - 163 g/m²
Non-ISO print papierafmetingen
16K, Executive, Index card, Legal, Letter, Oficio, Statement
Standaard lade papiergewicht
60 - 163 g/m²
Typen printmedia
verbinding-papier, Enveloppen, Zwaar papier, Labels, Normaal papier, Gerecycled papier
Poorten & interfaces
Standaard interfaces
Ethernet, USB 2.0, Draadloze LAN
Prestatie
Aanbevolen gebruiksindicatie
500 - 2500 pagina's per maand
Faxen
Gebruiksindicatie (maximaal)
15000 pagina's per maand
Kopiëren
Mono copying
Printen
Mono printing
Printtechnologie
Laser
Scannen
Colour scanning
Printsnelheid
Maximale resolutie
1200 x 1200 DPI
Printsnelheid (zwart, standaardkwaliteit, A4/US Letter)
23 ppm
Standaard printertalen
UFRII-LT
Tijdsduur tot de eerste pagina (zwart, normaal)
6 s
Scannen
Kleurdiepte invoer
24 Bit
Kleurdiepte uitvoer
24 Bit
Maximum scanresolutie
9600 x 9600 DPI
Ondersteund beeldformaat
JPEG XR,PNG,TIF
Ondersteunde documentformaten
PDF
Optische scanresolutie
600 x 600 DPI
Scan naar
Cloud, E-mail, PC
Scan snelheid (mono)
20 ppm
Scanner-drivers
ICA,TWAIN,WIA
Scansnelheid (kleur)
15 ppm
Soort scanner
Flatbed
Software
Ondersteunde server operating systems
Windows Server 2003,Windows Server 2003 R2,Windows Server 2008,Windows Server 2008 R2,Windows Server 2012,Windows Server 2012 R2
Ondersteunt Linux
Ondersteunt Mac-besturingssysteem
Mac OS X 10.6 Snow Leopard,Mac OS X 10.7 Lion,Mac OS X 10.8 Mountain Lion,Mac OS X 10.9 Mavericks
Ondersteunt Windows
Windows 10 Education,Windows 10 Education x64,Windows 10 Enterprise,Windows 10 Enterprise x64,Windows 10 Home,Windows 10 Home x64,Windows 10 Pro,Windows 10 Pro x64,Windows 7 Enterprise,Windows 7 Enterprise x64,Windows 7 Home Basic,Windows 7 Home Basic x64,Windows 7 Home Premium,Windows 7 Home Premium x64,Windows 7 Professional,Windows 7 Professional x64,Windows 7 Starter,Windows 7 Starter x64,Windows 7 Ultimate,Windows 7 Ultimate x64,Windows 8,Windows 8 Enterprise,Windows 8 Enterprise x64,Windows 8 Pro,Windows 8 Pro x64,Windows 8 x64,Windows 8.1,Windows 8.1 Enterprise,Windows 8.1 Enterprise x64,Windows 8.1 Pro,Windows 8.1 Pro x64,Windows 8.1 x64,Windows Vista Business,Windows Vista Business x64,Windows Vista Enterprise,Windows Vista Enterprise x64,Windows Vista Home Basic,Windows Vista Home Basic x64,Windows Vista Home Premium,Windows Vista Home Premium x64,Windows Vista Ultimate,Windows Vista Ultimate x64
Uitvoercapaciteit
Standaard uitvoercapaciteit
100 vel